I'm thinking about reviving this feature on my blog. For a few weeks earlier this year, I was doing a fairly regular "Smashwords Smackdown" post. But part of me doesn't want to crush any indie spirits - I'm not really mean enough to do this consistently. The benevolent English prof in me wants to avoid the snark and gently prod enemies of the English language (or self-publishing) in the right direction.
I mean, I really love
Smashwords.com
. It's the true indie haven of the digital publishing world. I revel in the anything goes attitude. I've found so much neat stuff there (and I do and will continue to post about that), but sometimes...
Well, for instance...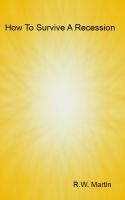 HOW TO SURVIVE A RECESSION
- This book costs $16.95. For 6,364 words.
I guess that's how
this author's
going to survive the recession: by having you pay through the nose for tidbits of advice "addressing a wide range of subjects from food to haircuts; exercise to soap-making."
To be fair (sort of), even in the small press print-publishing world, $16.95 for 6,300 words wouldn't be such a great payment - if you were only paid it once, by a publisher. But that price, being paid by each prospective e-reader, just doesn't fly in the indie e-book publishing world.